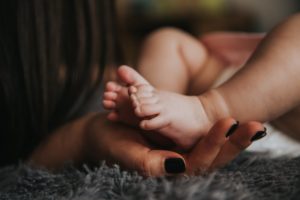 Within the first 3-4 days of giving birth it is natural and common to experience something referred to as the "baby blues." Signs you are experiencing the "baby blues" might include being, weepy, irritable, overwhelmed and tired and you may notice changes in your appetite. The "baby blues" should lift within a few days as your hormones settle and you adapt to the changes of having a new baby to care for.
If you find that these symptoms don't shift and last for weeks or months, you may be suffering from Post-Partum Depression.
As a new mother, you may feel extremely overwhelmed and think that you are unable to handle motherhood, this can lead to feelings of guilt and even make you wonder if your baby might be better off without you.
If crying has become a regular part of your day and you find yourself feeling, sad, confused scared, or maybe even feeling nothing at all, you may be experiencing Post-Partum depression. Another sign to watch for is not being able to sleep at all, or sleeping so much that you can't get things done.
Signs of depression can often be missed in new mothers because significant changes in sleeping, interests, energy, mood and body weight are all considered normal in new motherhood.
If you are experiencing any of these signs and symptoms it is important that you reach out for help from your medical doctor, midwife or a trained mental health professional.
You are not alone and this is not your fault.
Brant Mental Health Solutions is fortunate to have Registered Social Worker, Shelley Hall, on our team. Shelley has experience in working with women who are experiencing Post-Partum Mood Disorders and will be facilitating a support group this Spring in Paris, Ontario.